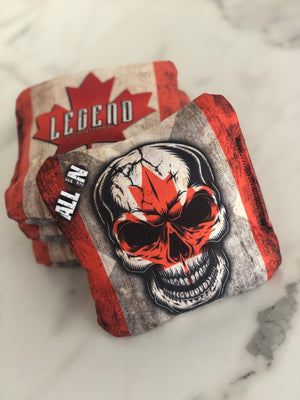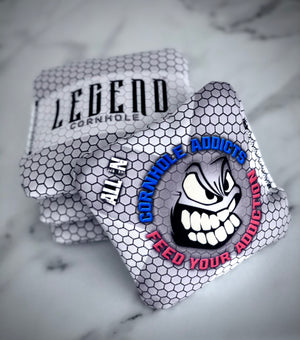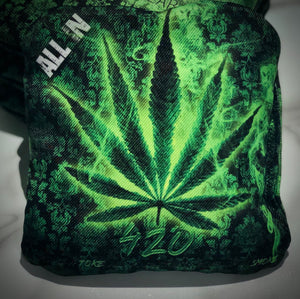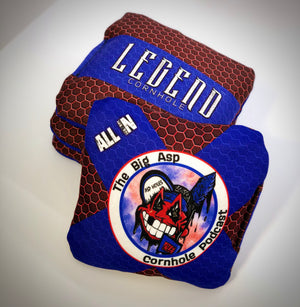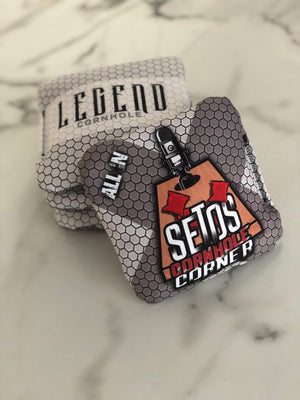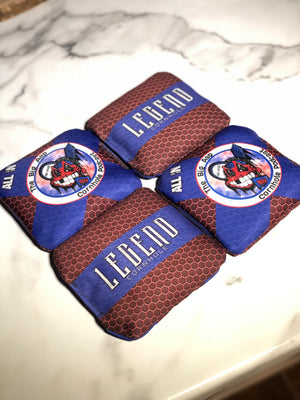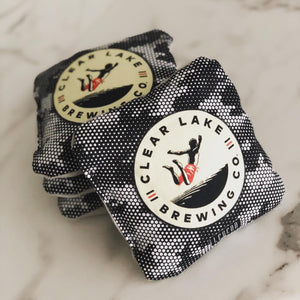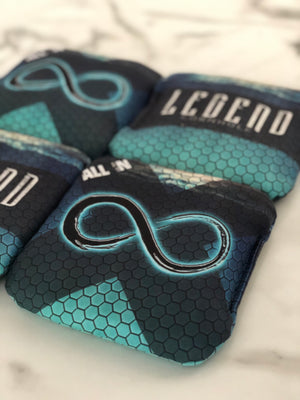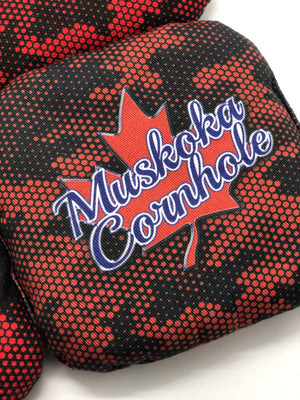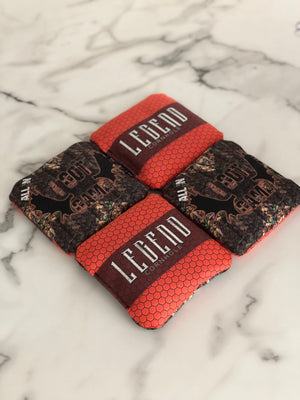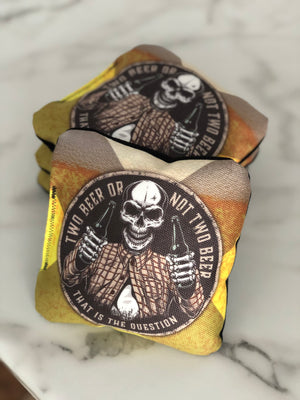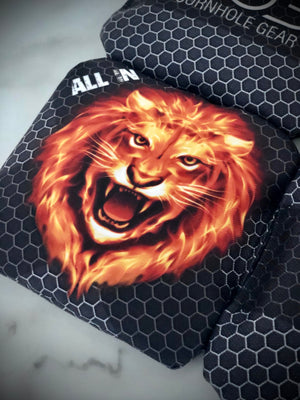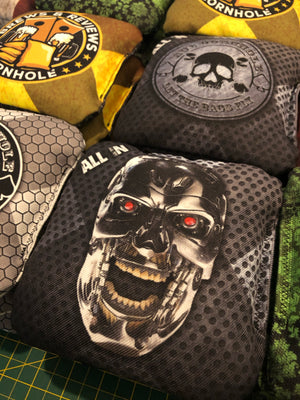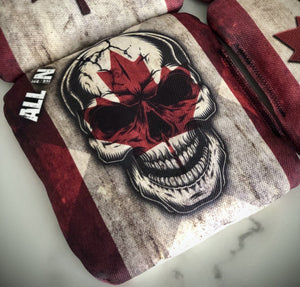 Custom Printed Cornhole Bags
Custom bags can be printed in any series that we sell.  Please see the product description below of each bag series and select the bag type that you want to get custom printed. Custom Orders are sent to production once artwork is approved and required 2-3 weeks to be ready to ship.
View Video of all our bags series
1. "ALL IN" This is a fast/medium bag with a speed rating of 8-9 of the slick side and a 5-6 on the medium stick side. It come already loose feeling but get looser once broken in. You can throw a blocker with this bag but still be able to push it in. This bag would be for players that have a higher arc to their throw.
2. "ALL IN" (Speed) - This bag is a fast and faster bag. It has the same fast material as the slick side of OG "ALL IN" bag but on the other side it has then same material, just thicker and just a bit slower. It has a rating of 8-9 on the Slick side and 7-8 on the stick side. This bag is very loose from the get go and falls right in the whole. This bag is pretty fast and would be suitable for players that can throw a higher arc and can throw a straight bag.
3. "ALL IN" (Smooth) This bags starts with 2 new materials and is a medium/slow bag. The medium side material is a woven velour with very smooth feel and finish (hence the name Smooth) it is matched with a 100% cotton fabric that has a diagonal weave making it great for non-slip applications. This bag has a rating of 6 on the slick side and a 4 on the Stick Side. This is a more control type of bag that you can throw great blocker and cut bags that can still be pushed in, and still have a medium speed side for hard throwers. This bag needs more time to break in but it does break in nicely.
4. "ALL IN" (Elite) - The elite bag is our carpet style bag. It has the same stick material as the Smooth, but we paired it up with a carpet style material for the slick side. It has a speed rating of 8 on the Slick side and a 4 on the stick side. This bag is meant for the harder thrower that wants to play a blocking style game, but still has the versatility to throw a higher arc bag for that more finesse play. This bag breaks in perfectly and is the all around bag.
5. "STICKNSLICK" - 
The Legend™ "SticknSlick™" bags are a versatile cornhole bag made of cotton canvas material on the slick side for a very controlled smooth slide and 100% micro suede on the stick side to place the perfect blocker bag . The Sticknslick have a speed rating of 4-5 on the slick side and a 2-3 on the stick side, medium looseness and break in nicely that makes them find the whole and play a blocking style game.   Every bag is template Double stitched with super strong upholstery thread with perfectly rounded corners, every bag individually weighed to within 1% of 15.95oz. These cornhole bags are filled with our proprietary resin fill for the perfect fill, feel and weight.